Affordable, Great Quality Mattresses!!!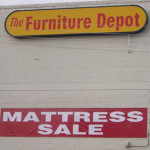 When you think of the Furniture Depot, you may not immediately think of sleeping. But it's a fact that we spend a significant portion of our lives asleep in our beds. The experts at the Furniture Depot can help you by finding the perfect mattress for your bedroom. We always have a huge selection in stock and can fit twin, full, queen and king size beds with ease.
We offer double-sided pillow tops that will last twice as long as regular mattresses. Our high quality mattresses are both affordable and durable. Having trouble with payments? Ask about our 90-day no-interest layaway plan as well as your choice of two different financing plans offered by The Furniture Depot.  Don't hesitate to contact us today.
Mattress Pricing*
— Twin sets: $138.00
— Full sets: $188.00
— Queen sets: $229.00
— King sets: $349.00
— Twin combo (1-pc. mattress and box spring): $79.95 — ideal for bunk beds, day beds and platform beds
*in-store pricing based on availability and may be subject to change